I was speaking to someone only recently, saying that I wasn't likely to put together any gift guides this year. I decided, in the end, to say 'sod it' and just do it. There are a few days this month that I have no posts ready for NaBloPoMo, because I've been turning my attention to other things. I've done some great work with my book lately, and I've been working on painting a few things for Seeg's birthday which I'll post in a month. I can't risk him seeing it before his birthday!
And so, because of that, there are a few blank days on my schedule, today being one of them.
I know I did a gift guide for book lovers last year, but since books are always quite heavily on my mind, I decided to do a new one featuring
other
book-related items I've come across over the past year.
Book jewellery (I'm allowed to put this here!) is another great gift for book lovers to make their passion known to anyone they meet. It can be loud, or it can be understated. This one is a bit of both. The colouring is mild, and it's not too large, but once someone notices it, they've noticed it. They're available as
rings
and
necklaces
.
Personally, I look for a lot more than just pendants. There are countless numbers of pendants out there with book quotes and images but they just don't do it for me. I don't want to invite people to get so close to my chest to see what my pendant says. Instead I prefer to express myself a little louder, I like things to be unusual, but recognisable from a distance. And so it is that I make these pieces, and have included the few below from other places and sellers, too.
Of course, some people are so stupidly clever that they can make bags out of books, or books out of bags. It makes me sick, really, the talent of some people.
have
the room to have such luxuries, book ends are desirable. And there are a lot out there. Some are clever, some are sophisticated, some are epic and some are just chunks of wood really. It depends on what you're after. Personally, I'd want dragon heads. But that's just me and my taste really. Not that I have the room for it anyway.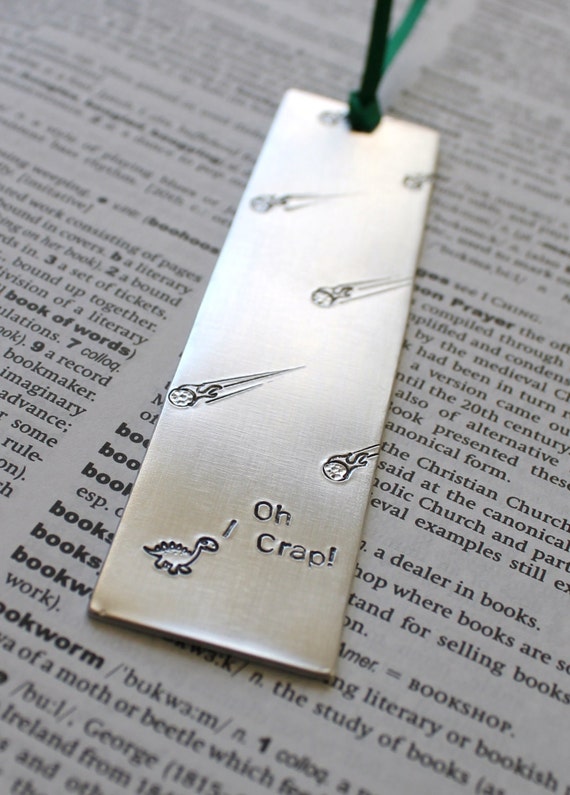 I've had my eye on this bookmark for a while, to be honest. I love it. I love the shop,
Mauve Magpie
, too. I almost bought my friend a bookmark from them last year for Christmas until I decided on getting two actual books instead. The problem I have with bookmarks is that they never stay looking nice unless they're leather. I usually use cardboard or plastic ones, and then they bent and
stay
bent. Bookmarks, ideally, should either be soft enough to allow them to bend so they can bounce back, like leather, or should be hard enough that they
don't
bend, like metal. I like these bookmarks specifically because I love the designs, and the price.
There are two leather bookmarks I also have my eye on, partially for collection's sake. There are two Middle Earth bookmarks by the incredible people at Weta - you know Weta, the people who are responsible for the creation of the props and costumes of movies like The Lord of the Rings, The Hobbit, and then for other things like Halo and DOTA. There are so many things in The Hobbit/The Lord of the Rings categories I want, namely the replica weapons. I'm a sucker for a good weapon replica! And theirs are the best since they're all made from the very same molds by the very same people that the originals were.